HK21-EUG (Custom Complete 21's Available!!)

On our receiver or yours. We offer features and options available no where else. We will build you a custom one of a kind to your taste and preference. Let us use our 18 years of shooting this bullet hose to benefit your HK 21 Build. Check out all the improvements we've developed for your special project. Note:HK21-EUG is our model designation referring to a base 21 (1960-70 era) with HK21E UpGrades that we have developed to give you a 21 with the advantages of year 2000 technology
.


One of my personal 21's with RDTS HK Fine Walnut Stock and Pistol Grip. This particular 21-EUG incorporates all of the features you would receive from us in a turnkey except for the custom walnut wood and the 21E carry handle (mounts for handle are included).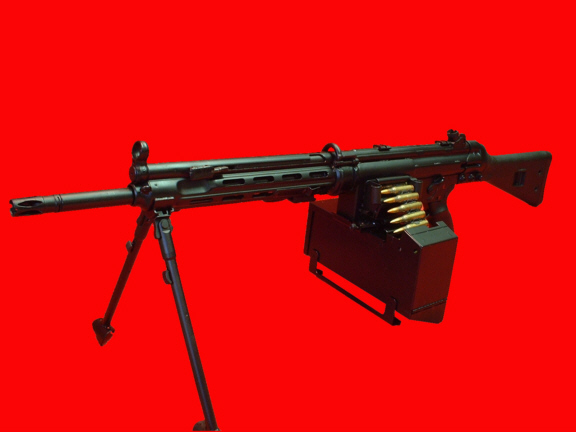 HK21-EUG with Black furniture
HK21 to MG3/MG42 TRIPOD ADAPTER


We machined up 50 of these HK21/MG3 Tripod Adapter Sets and have them available for immediate delivery for $350 to your door UPS! We guarantee these to be a perfect fit and will take you less than 5 minutes to install!!
HK21-EUG IMPROVEMENTS OVER STANDARD HK21 (1960-70 era)
To keep this page clean we have listed our improvements and upgrades to our HK21-EUG.