REGISTERED MACHINEGUN SEAR INSTALLATIONS ON
3-SHOT BURST AMBIDEXTROUS,
PLASTIC or STEEL SEF TRIGGER GROUPS
UPDATE 2007
Note: Since we understand that BATF technical has determined that a sear ready trigger group without the sear in it can function full-auto (hammer follow bolt carrier-slam bang), WE WILL NOT SEND OUT SEAR READY FULL-AUTO PAKS. You can send us your sear for install. The full auto function that BATF technical has made a note of occurs because to facilitate full auto you need more trigger travel which moves the trigger disconnector down enough so it doesn't engage the trigger sear notch on the hammer. Without the auto sear in the group the hammer simply follows the bolt carrier which may or may not cause full auto as its basically a malfunction because of missing parts.
WE ARE THE FIRST AND PROBABLY ONLY MANUFACTURER THAT CAN INSTALL YOUR CIENER SEAR IN A BURST GROUP!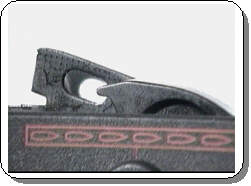 FLEMING SEAR INSTALLATIONS
Factory Spec reliability and performance when RDTS sets up your Trigger Group for the Fleming type sear (Fleming, Qualified Manuf and some S&H). You simply send your sear to us and we do the install plus we'll buff your sear out for an ultra smooth release! Form 5 is not necessary any more, but you will have to send copies of your paperwork and a letter stating what you want done.
These groups include our exclusive full swing hammers. On all plastic frame trigger groups we add an original push pin machined and bonded to the front ears so the group appears to be push pinned. RDTS originated the full swing hammer for sear conversions. The auto sear engagement area of the hammer is TIG welded and machined so when it is engaged on the auto sear the hammer lies .250 off the group frame for full factory spec hammer travel . The trigger sear and matching hammer engagement area is not touched to preserve factory inherent safety features. Keep in mind when you are told by a gunsmith? that they use unmodified XX HK hammers in their full-auto group setups that they HAVE TO grind or belt sand the trigger sear. What this does is create a shorter hammer arc. Check out your own conversion….push the hammer all the way down by hand then imagine it coming up about 1/4 of an inch., this is where we have it.
Also while your at it look at the trigger sear engagement when the group is in the registered auto sear engagement, there should be a gap between the trigger sear and the hammer trigger sear engagement notch! If that's not happening you're an accident waiting to happen! We see this every day….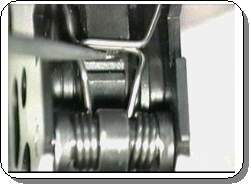 .It makes us wonder what's up when a client sends us a weapon for a 51 upgrade that they have never been able to get more than 3 shots off in a row!!! We give you the information to make a wise decision. We know there are other outfits that can do a good job. It's a matter of pride in your work, knowing that it has to be right because you will still be here answering the phone and doing the work years from now.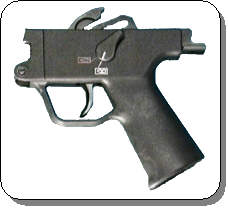 FBI SEMI AMBI TRIGGER GROUP
This is a semi-auto pushpin trigger group that looks identical to the 2 or 3 shot burst groups. It has the same bullet markings and is ambidextrous. We machine the housing to go on a semi type receiver block and add our machined pushpins to the front ears for that authentic look!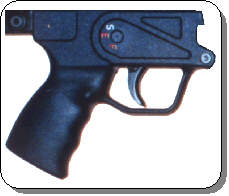 PLASTIC SEF HOUSINGS FOR SEMI AUTO
Modified and blocked for your semi internals (Unmodified select-fire group will not slide in) to fit on a semi type receiver and machined pushpins on the front ears for the factory look.